Our Team
Mary Max, Founder/Executive Director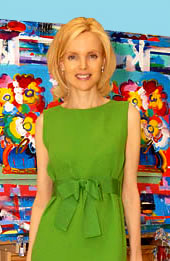 When Mary first met her husband, artist Peter Max, she had no regard for animals whatsoever, not even cats or dogs. But on the beautiful October morning when Peter walked through the door with an orphaned two-week-old kitty, Mary knew her life would never be the same. Between bottle feedings, regular baths, and cat naps, Mary barely left the apartment for a month.

Living with "Miss October" showed her that animals are more similar to humans than they are different, and that all animals have real desires, real interests, and real emotions. So when Mary found out the gruesome truth about factory farming, fur farms, canned hunts, and vivisection, she had to take action.
She began her activism by taking on Farm Sanctuary's No Veal campaign in NYC. She then added to her activism by starting a weekly e-mail alert service and screening such films as The Witness and Peaceable Kingdom in mainstream theaters. In addition to maintaining her alert service, Mary stays busy working to implement a New York State resolution that allows plant-based meals in all New York State schools. She relishes her role as an active board member of The Humane Society of the U.S., Humane USA-PAC, The New York Coalition for Healthy School Food, and The Community Fund for Manhattan, an initiative of the Manhattan Borough President Scott M. Stringer. She also enjoys serving on the advisory board for The New York League of Humane Voters as well as on the advisory council of Farm Sanctuary. Mary is a devoted mom to seven rescued kitties and one rescued dog and is still the blushing bride of Peter Max.
Marisa Miller Wolfson, Vegan Educator/Filmmaker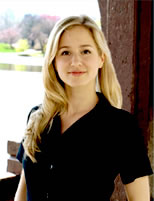 Marisa has been the public face of the organization since 2003, when she first started working with co-founder Mary Max. She came from the world of children's publishing, where she constantly nudged colleagues to recycle and to try her organic, vegan cookies.
As soon as she landed her dream job as a professional eco-nudger, she hit the ground running, teaming up with other activists around the U.S. and Canada to organize grassroots educational events for thousands of people. Some of her favorite venues include the University of Southern Indiana in her hometown of Evansville, Indiana, and Smith College, where she graduated with Latin honors and a B.A. in English Literature and German Cultural Studies. She is currently directing, producing, and editing her first feature-length documentary about veganism, entitled Vegucated. And she enjoys coaching people on how to integrate vegan routines into their daily lives through the Vegan at Heart online coaching program.
She has published several short stories and articles, translated children's books, co-founded a sketch comedy troupe, and preached from the pulpit of several Unitarian-Universalist churches as a board member of Unitarian Universalist Animal Ministry.
She lives in Manhattan with her husband David and two cats. On any given Saturday, you might spot her at the Union Square Greenmarket, dropping off her compost and buying veggies.
Joyce Friedman, Director of Companion Animal Programs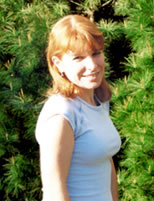 Joyce recently joined the team at Kind Green Planet, bringing with her an extensive background in animal protection work. She led campaigns in NY for In Defense of Animals for seven years on a wide range of issues including animal circuses, veganism, companion animals, and vivisection. Her growing passion for legislative work led her to work with the League of Humane Voters of NYC and as a lobbyist for Humane Society of the United States.
Joyce originally got into animal work after working simultaneously as a clinical social worker with an MSW from NYU and volunteering at a local animal shelter. Her current program brings her full circle as she co-runs Pets for Life NYC (PFLNYC) (formerly the Safety Net Program) with Jenny Olsen of the Humane Society of the U.S. (HSUS).
PFLNYC is an animal surrender prevention program which prevents animals from entering NYC animal shelters and helps keeps them with their families. Joyce uses both her social work and animal advocacy skills to co-manage and expand this life-saving program which assists the most needy New Yorkers in solving the problems leading them to consider giving up their companion animals. PFLNYC offers a variety of free and low-cost services including reduced-cost vet care, foster homes and reduced-cost boarding for pets of people in crisis, allergy and shedding solutions, assistance with pet-related landlord-tenant issues, spay-neuter assistance and referrals, and general animal care, problem-solving guidance, and hand-on solutions to issues leading to potential relinquishment.
When Joyce volunteered extensively in Louisiana during the animal rescue effort after Hurricane Katrina hit, she made friends with hundreds of pit bulls and as a result, she and PFLNYC are especially passionate about changing the stereotype and reducing the suffering of these misunderstood, affectionate and loving dogs.
Joyce shares her life with her boyfriend Matt, her four rescued cats and one rescued dog.