The Kind Green Heroes Pay It Forward Push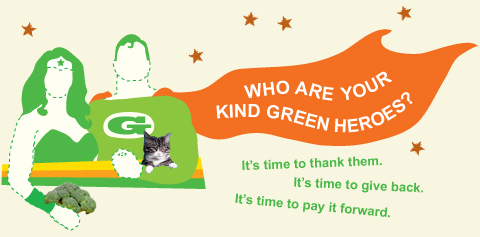 Winners Announced!
Our deepest thanks to everyone who participated in the first annual Kind Green Heroes Pay It Forward Push. As the entries poured in, we were overcome with a sense of gratitude and appreciation for everyone who has inspired anyone else. This year's drawing winners have inspired so many people with their compassion, their example, and their deep commitment to making the world a kinder, greener place for all its inhabitants.

A vegetarian for over 18 years, Tara Lynch has tried to incorporate humane and green practices into her life from a young age. She is currently pursuing a Masters degree in International Affairs at Columbia University, and is interested in developing sustainable programs for multi-hazard emergency situations. As the majority of emergencies and disaster situations today are the direct result of climate change or struggles for control of diminishing resources, she feels it is important for humanitarian agencies to broaden their focus, moving from reaction-based action towards one of preparedness and capacity development.

This past year, Frank Mataska completed his service in the US Peace Corps, where he worked in Jamaica to design and integrate environmental education in primary schools; empower at-risk youth through eco-friendly, small business projects; and organize subsistence farmers around educational and fundraising opportunities. A graduate of NYU's Tisch Film School, he has been able to combine his passions for film and environmental education as Co-producer and Co-editor of Kind Green Planet's upcoming documentary, Glass Walls.

Suzanne McMillan graduated in May from Pace Law School, where she began a chapter of the Student Animal Legal Defense Fund and co-founded an animal law blog on which she posts factory-farming related legal news (www.animalblawg.wordpress.com). She begins a masters program this fall in food & agriculture law to better the lives of animals enduring international factory-farming and trade.

Jannette Patterson's activism for animals began when she was twelve years old and hasn't stopped since. She has volunteered or worked for animal organizations for most of her life, including twelve years at PETA. She currently serves as Director of Special Gifts for the PETA Foundation.

We all have a kind green hero. We all have one person (or two or five) who has inspired us to be a little greener or a little kinder to animals in our daily lives. Perhaps this person has shared information with you...or simply led by example. Chances are, she doesn't need to be thanked. Chances are, the biggest thank-you he can imagine would be your kind, green actions. But wouldn't it be nice if she knew how much her inspiration meant to you? Wouldn't it be nice if he had the opportunity to be rewarded while doing good at the same time?
Now is your chance.
This Earth Day, Kind Green Planet celebrates the kind green heroes in our lives with our first annual Pay It Forward Push. By making a small tax-deductible donation to Kind Green Planet, we will enter your kind green heroes into four drawings for gorgeously green, animal-friendly prizes.
A Scent of Scandal assorted candles

No wonder celebrities are fawning over these soy candles, with deliciously scandalous names and scents. This prize package of six candles includes Green Queen, a candle designed especially for Kind Green Planet (15% of proceeds go directly to our work!)
olsen Haus: Pure Vegan sexy red heels

From the new line that celebs and fashion editors (including W Magazine) are raving about.
Lovemore sundries

We couldn't love these great green goodies more! Winner receives a Lovemore t-shirt of choice, a 20 oz water bottle, a 3-pack of reusable bags, a vegan belt, and tons of good karma.
Peter Max poster (signed & dedicated)

Winner can choose any (non-vintage) poster in the online store to be signed and dedicated by the art icon himself!


How to enter
Simply donate $10 and give us the names and email addresses of two kind green heroes in your life. Or donate $20 and give us the names and addresses of five kind green heroes in your life. In exchange, we will send them an e-card letting them know that you consider them a kind green hero and that you have entered their name into our fabulous prize drawings. Note: you don't have to enter two (or five) different names; you can enter just one person, if you'd prefer. We'll enter his/her name twice (or five times, depending on donation amount.)
There will be four drawings and four winners--one for each prize. Winners will be announced on May 6st.
Thank you from the bottom of our hearts for everything you do to make this planet a gentler place for all its inhabitants.
-The Kind Green Planet Team