Making a film is only half the time and money; releasing it is the other. We're launching full-speed ahead into the second half of the film process, and we're looking to raise money for the release.
Please watch our Kickstarter... more >


It's long overdue, but we finally have a whole big fancy website just for the film! Please stop by GetVegucated.com for updates on the film, including good news about the world premiere in September!
We teamed up with the fabulous Leanne Mai-ly Hilgart from Vaute Couture on a super cute fashion tee design that features the famous quote by Albert Einstein:
"Nothing will benefit human health and increase the chances for survival of life on earth as much as... more >


2nd Jul 2011

The Preview Screening tickets in conjunction with Vida Vegan Con are now on sale! The conference is sold out, but this screening is open to the public and only costs $5 plus any donation to Farm Sanctuary you want to give over and above... more >


17th Jun 2011


Super exciting news: our first sneak peek screening this summer will be July 6th from 3-5 pm at Vegetarian Summerfest, which is being held July 5th-9th at the University of Pittsburgh Campus in Johnstown, PA.
It'll be a homecoming... more >


18th May 2011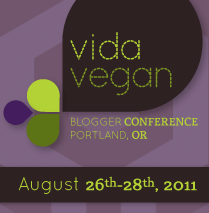 We're delighted to announce that we're organizing a sneak peek screening at Vida Vegan Con, the first ever vegan bloggers conference, which is being held August 26-28 in Portland, Oregon. The screening will be held Thursday, Aug. 25th,... more >


22nd Apr 2011


Happy Earth Day! We're celebrating the earth today and some good news about our film. We signed with FilmBuff, a digital entertainment curator offered by Cinetic Rights Management. This means we're a heck of a lot closer... more >


24th Mar 2011

Zoe Weil is one of our heroes. She is the powerhouse responsible for creating the humane education movement, inspiring people to teach kids to think critically and to explore social justice, environmental ethics, and animal protection issues in classrooms all around the world. Somehow,... more >


21st Jan 2011

We've admired the work of VegFund for a while now. If you haven't heard of them, they'e a terrific organization that empowers vegan activists worldwide by funding and supporting outreach activities that inspire people to choose a vegan lifestyle. I know of several... more >


10th Jan 2011

Lia Starace, who edits trailers for Showtime, did a bang up job on the revised trailer for Vegucated and was an absolute pleasure to work with. After watching the film, she and her co-producer both went veg! What do YOU think of the trailer?... more >


9th Dec 2010

Social networking really does work! We finally got around to making a little Twitter profile and followed @VegetarianStar. By the afternoon, this post was up, trailer and all, on VegetarianStar.com, a great site that features vegetarian celebrity gossip and news.
4th Dec 2010

Kind Green Planet has been on social networking sites for a while, but now we've made separate accounts just for friends, fans and followers of the film on Facebook and Twitter. Not only will we share excting updates on the film, which is... more >


10th Nov 2010

We're currently seeking an experienced trailer editor to create a new trailer for Vegucated. (If you are not an experienced trailer editor with samples of previous trailers, please do not apply.)
We ended up changing the name of the film, changing some footage in the... more >


15th Oct 2010

Thanks to Christine Russo, friend of farm animals and filmmakers the world over, we have a much prettier film. She applied her skills as a colorist to Vegucated, which was a slight change of pace from her last color project, sci-fi/horror feature The Shriven.... more >


4th Oct 2010

Our heartfelt congratulations to Joel Raabe, Allison Casey, and the rest of the sound team at Gramercy Post who won an Emmy for "Outstanding Individual Achievement in a Craft:... more >


28th Sep 2010

We've done it. The submission was sent in last week, and we're asking everyone to do a rain dance or a sun dance or a please-get-this-dang-film-accepted-so-we-can-change-the-world dance. We know that our chances are slim, with 10,000 hopeful applicants and only 200 slots, of which only... more >


9th Sep 2010

We couldn't be more thrilled with the amazing sound design by the super talented and friendly folks at Gramercy Post. Joel Raabe, Anthony Erice, Justin Hillman, Allison Casey and owner Joe Mendelson have been such a joy to work with. Now we're getting our... more >


25th Aug 2010

Now that Vegucated is picture-locked and being sound designed by the uber-talented, Emmy-nominated Joel Raabe & company at Gramercy Post, it's high time that we get started on some key art: a lovely logo for Facebook and Twitter as well as a kickass film... more >


22nd Jul 2010

We were so delighted to hear that the two sound guys we're working with have been nominated for an Emmy in the same category: Outstanding Individual Achievement in a Craft: Music & Sound. Joel Raabe, who has recorded our voiceovers, is nominated for his work... more >


29th Jun 2010

PlanetGreen.com just got vegucated. Thanks to writer/interviewer Mickey Z., you can now see the trailer and an exclusive interview with director Marisa Miller Wolfson on their website. Thanks also to the kind folks who left thoughtful comments below the interview.
6th Jun 2010

We're near the end of post-production, and we have an amazing sound designer, Eric Milano, but we're looking for a colorist to make our picture look mighty fine. We do have a small budget, so contact Marisa if you're interested. Please spread the... more >


31st Mar 2010

Because PETA Europe came out with a video on animal agriculture called Glass Walls that's narrated by Sir Paul McCartney recently, we've had to change the title of our film to avoid confusion. Our condolences and congratulations to our friend Jasmin Singer from... more >


22nd Jan 2010

Now that Asterisk Animation has delivered the final animation and graphics (love 'em!), we're focusing on wrapping up the music. We're 98% there, thanks in large part to music writer/producer Malcolm Francis and brilliant composer Dave Fischoff. We're working with esteemed songwriters Joy... more >



We are the honored recipients of a Culture & Animals Foundation "Creativity" grant, which will go directly towards finishing funds, including animation and design.

We're delighted with the work that's coming in from Asterisk,... more >


---
Donate
We're currently seeking $1500 to cover licensing costs of beautiful archival photos. Every donation, no matter how small, helps.