General Info & Upcoming Events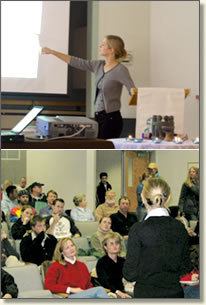 Since 2003, Director of Outreach Marisa Miller Wolfson has been pounding the pavement for the planet. She has helped organize educational events about healthy, humane, eco-friendly living at colleges, law schools, churches, community centers and high schools all around the country.
Through screenings of award-winning documentaries, inspiring lectures, and fun and enlightening workshops, she's been opening hearts and minds about healthier, more peaceful and more sustainable ways to live.
Contact her to discuss how to build a workshop, screening, or other kind of presentation that works for your community.
Upcoming events
No upcomming events.
See archive ›
Sign up to stay informed about upcoming events!