Workshops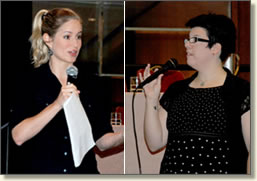 In 2006, Marisa teamed up with Jasmin Singer, Outreach Coordinator of Farm Sanctuary, for a fun, unconventional Veganism 101 workshop, and a new star was born. They've been raising eyebrows and awareness for standing-room only crowds ever since. Their warm-hearted spirits and off-beat tactics (prizes, anyone?) have won over media and skeptics alike.

Past workshops include:
It's Easy Being Green: The How's and Why's of Eco-friendly Eating: An introduction to the importance of eating healthy, local, organic, seasonal plant food and how easy they are to find in the Big Apple.

Activism 101: Put Your Passion into Action: A guide for beginner animal activists who want to find a way to use their natural talents and interests to make a difference in their community.

Veganism 101: From Personal to Global (named a Village Voice "Choice"): The hows and whys of being vegan, including nutrition, ethics, lifestyle, and then some…

Not Your Typical Vegan Workshop: A social justice/healthy living workshops that creates a fun and safe space to discuss such heated topics as "humane" meat and interlocking forms of oppression.

The Merry Vegan: A Holiday Survival Guide (featured in TimeOut NY): A morale-booster that includes ideas for socially-conscious gift-giving, eco-friendly decorating, irresistible holiday eats, and handling Uncle Joe's vegan jokes.
Consumed: Where the Women's, Gay, and Animal Liberation Movements Intersect: A thought-provoking discussion with guest speakers who are active in or have written about the women's and gay rights movements.
Outreach 101: How to Lead Your Own Workshop: A workshop about how to lead a workshop! Great tools and advice on how to educate people within your community on an issue you care about.

Marisa and Jasmin are happy to tailor a workshop to your needs, based on your audience and interest.

Workshop Feedback:
"I LOVED YOUR WORKSHOP!" – John Phillips, League of Humane Voters (LOHV)
"It was a very entertaining workshop!" – Isa Chandra Moscowitz, author of Vegan with a Vengeance, Vegan Cupcakes Take Over the World, and Veganomicon.
"That was so fantastic -- I'm still thinking about it! I was shocked by how little I still know about nutrition and sources of protein, vitamins, etc. I'm already brainstorming about who to promote your workshop to ... you guys have created a real gem!" – Camden McDaris, former president of SALDF, Cardozo Law School
"Just a quick note to say thank you- for these helpful links, the very useful material you handed last Friday and the awesome workshop! On my way there last week, I had no idea it was going to be so fun- probably because the reasons why we chose to be vegans are so sad. I loved your energy and the lovely (and positive) way you talked about such a dark matter. I was so inspired, I started working on my own vegan blog..." – Andréa
"I loved the workshop–great job, and thanks so much!" – Josephine Bellaccomo, author of Move the Message
"Excellent! Thanks so much for these resources. I enjoyed the program immensely - I'd never been to any kind of vegan workshop before. I went cold-turkey (if you will) vegan at the beginning of the year without ever fully thinking through the details, convictions, and facts of why; I just knew it was the right and decent thing to do. I have to admit, the animal mistreatment footage was horrific, but I'm glad to have seen it and I wish you the best on completing your documentary. Thanks again." – Jenny
"Yippee! You ladies rock! I wish I was comfortable speaking publicly like the two of you. Education is key, and the two of you make it so engaging and entertaining." – Lisa Virgona, Board member, LOHV
"I really enjoyed the workshop and will definitely use your great tips at our next workshop." – Noelle Callahan, Outreach Coordinator, Compassion Over Killing
"Also, thanks for the great workshop presentation -- that was the most useful presentation for me out of the [Taking Action for Animals] conference." – Robyn