Know some people who might like to join Vegan at Heart?
Invite them and automatically be entered into a monthly drawing to win a prize.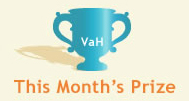 A copy of the Eatright America Food Scoring Guide by Joel Fuhrman, MD and a copy of Green Is the New Black by Tamsin Blanchard.