Vegucated Documentary
Sneak Peek of Vegucated in Portland at Vida Vegan Con
18th May 2011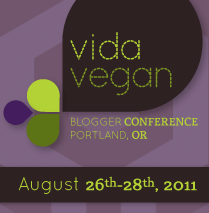 We're delighted to announce that we're organizing a sneak peek screening at Vida Vegan Con, the first ever vegan bloggers conference, which is being held August 26-28 in Portland, Oregon. The screening will be held Thursday, Aug. 25th, at 7 pm, after the meet and great. Check out the con agenda for full conference schedule.
As if a vegan bloggers conference weren't cool enough, it's also a super sold-out event to the tune of "Oh, we're so booked that you had to register SIX MONTHS IN ADVANCE!" More coolness: they're sponsored by Coconut Bliss and a kickass lineup of workshops, presentations and panels led by bloggers we know and love, including Jasmin Singer of Our Hen House, who appears in our film.
Kicking yourself for not registering sooner? There are two conference ticket giveaways, so you still have a chance! More details here.